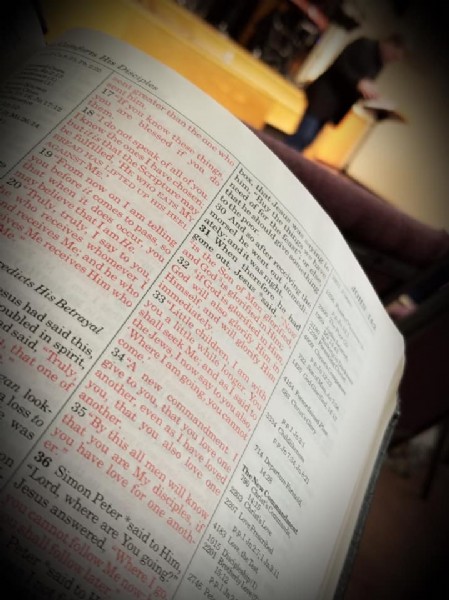 This week I began a sermon series based on topics and questions from our Church Youth Ministry. They approached me about the idea and I whole-heartedly agreed to do it (I had no idea what I was about to embark on).
I asked the group to submit the topics on 3x5 notecards… I am still a little "Old School". I also, for their comfort and to foster complete honesty, asked them not to put their names on the cards. They gladly did so.
On top of the small stack was a notecard that simply said "Life". The next one had 5 red bullet points that I felt related to the first card. These bullet points read: "Feelings, Hate, Dying inside, How do you know you are in love and Mistakes". Wow! The honesty was overwhelming.
After sitting and praying for this anonymous young person, a verse from the Bible came to my mind and heart. One that I have through the years made a "Go To" verse in my own life.
Proverbs 3:5-6 "Trust in the Lord with all your heart and do not lean on your own understanding. In all your ways acknowledge Him, and He will make your paths straight".
With a limited space let me share one or two thoughts concerning life from this Scripture verse.
Trust is the key word in Proverbs 3:5-6. The word speaks of confident assurance and the feeling of safety and security when one can rely on someone or something. It then points us to the very One in whom we can place our trust… God Himself.
Life is hard. It is even harder when we have a foot in both Christ and the world. Placing our safety, security and reliance in this life upon anyone or anything else other than God Himself is having feet in the world.
We are to never "lean on our own understanding" in our daily life. If He is "the life" (John 14:6) then we must be able to trust Him with our very life, past, present and future. And, our feelings, desires and wants must be placed under the authority of God and His Word.
As we "trust in the Lord with all our heart" and "in all our ways acknowledge Him", we will see a beautiful relationship begin to happen. A relationship that is far better than any the world can offer. A relationship that is not build upon performance, guilt, consumership or any of the like.A relationship that is grander than the one held by Adam and Eve in the garden. Yes, the Christian life is better than the "Garden" variety! This relationship is based upon abiding… we abide in Him and He in us (John 15:4… another topic for another day).
Last, as we "trust in the Lord with all our heart" the Scriptural promise of God comes forth. The passage says "…and He will make your paths straight". A simple truth to those who trust. God's loving voice and promptings will be yours to hear. He will make His home in you as you make your home in Him.
In 1973 a popular song by the duo Seals and Croft called "We May Never Pass This Way (Again)" contained these lyrics: "Life so they say, is but a game and we let it slip away".
Life is not a game and neither is the life we have in Jesus. Never let His life in you slip away.
Just some thoughts for today.