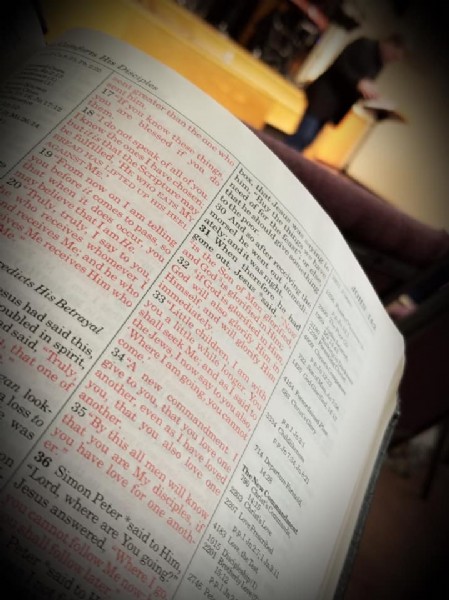 I was thinking about this today.
Not long ago I was asked a question that caught me off guard. The question was "What advise would you give to young Pastor's today"? Immediately… that movie effect happened where a person is asked something and then they move through that fast tunnel thing and they are then standing in a different place? A little dramatic, but that is how I felt.
I stood there and thought… "Who said I am old and had any worthwhile advice"? Then very quickly reality set in. I am not "old" but I am also not young anymore and the journey of my choices and the grace our Lord Jesus have produced a few life lessons I could share. So here we go on a "Thought Journey".
The verse that slammed right into my heart and mind was Proverbs 4:23 "Watch over your heart with all diligence, for from it flow the springs of life". This verse and what follows carries great wisdom not only for young ministers but for all of us as we walk through life (and in the Church).
Let's look at a few words from this great passage of Scripture first.
The word "Watch" means to guard, keep, observe, preserve, hide. It speaks of maintaining things entrusted to us. It is used for keeping the truths of God in both our actions and our heart. We could almost stop right here… but we will not.
Another word written here is "Diligence". This word continues Solomon's advice to his son. Diligence means to guard, to have custody over. It simply means to continue to guard. It gives the understanding of safety and security.
Our last little word is "Heart". Dr. John MacArthur wrote in his MacArthur Bible Commentary; "The "heart" commonly refers to the mind as the center of thinking and reason, but also includes the emotions, the will, and thus, the whole inner being".
Solomon gives the reason for warning his son to "Watch over your heart with all diligence". The warning is… "for from it flow the springs of life". Our heart is the storehouse of all that affects our words, how we view things and our daily conduct.
Life is hard. Pastoring makes life even harder. Believers can be hurtful, cruel and cause deep wounds upon each other. Yet, God's Word calls us to walk with higher purposeful steps. It calls us to walk like Jesus whether others do so or not. We are to "Be kind to one another, tender-hearted, forgiving each other, just as God in Christ also has forgiven you. Therefore be imitators of God, as beloved children; and walk in love, just as Christ also loved you and gave Himself up for us, an offering and a sacrifice to God as a fragrant aroma" (Ephesians 4:32 - 5:2). Sadly, this is is not always how we or others act. Yet, If we do the things mentioned in Ephesians (forgive as Jesus forgave us, be imitators of God, know we are His children, walk in sacrificial love as He did) we will maintain a diligent watch over our hearts. This watch will keep our life flowing in the grace and presence of Christ daily. It will also heal wounds and keep us pressing "on toward the goal for the prize of the upward call of God in Christ Jesus" (Philippians 3:14).
When all believers, (especially) young pastors, diligently watch over their hearts in Christ, we will be wells of life to the world with a fragrant scent of Jesus in the water.
Just some thoughts for today.